Welcome to Elegant Tiny Paws
At Elegant Mi-Ki, my life is dedicated to the care, development and love of our Miki Puppies. Our Mi Ki puppies are raised in our home and are constantly being handled and loved. We are a show home breeder, health tested, Mi-Ki registered show quality dogs.
My Mi-Ki puppies leave here confident, happy, people oriented, and eager to learn.
Requirements to become a breeding dog in my program:
Pass ALL Health Test/ OFA Tested Parents (see results under the tab to your left that says our females and our males) We are going to start inducting our dogs with the new CHIC program, plus adults have been tested and added to optimal selection data base.
DNA with Parentage verification and & 4 plus Generations in Pedigree
Mi-Ki registered Dog, ours are registered/ registerable with AMRA and/or UKC
Must pass confirmation so we can produce Show quality Mi-Kis (ICE/IABCA/UKC)
Must pass a personality check i.e., AKC citizen temperament, therapy dog, etc
Then they can become part of our breeding program, our puppies go through Super Dog technique.
We have puppies!!!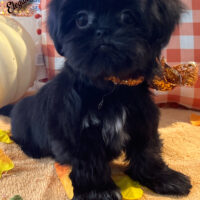 also check out items we recommend on Amazon. Disclosure, we do get a small commission when you use our link. This helps with rescues we take in.
https://amzn.to/460MJNj
Don't forget to click under the tab available puppies for sale to see more pictures and check out our videos under videos tab to see them weekly and how they grow and are trained. Thank you
Want essential oils? I order from this site for me and my pets 🙂